Unless you're living in post Covid-19 era, where everything's normal as if nothing ever happened, you must be attending a lot of meeting online. I've been attending a lot of meetings on daily basis.
I know the pain of using the default webcam on my MacBook pro. To maintain a slim display, Apple cannot put more than a 720p lens on the front. Just like every other customization, upgrading to a high-quality webcam on a MacBook will cost you serious money & a headache of wiring.
I've discovered a couple of apps (for Android & iPhone) that does the job of upgrading your video quality for zoom meetings/livestreams at pretty much no cost. Most smartphones have amazing camera setups these days, that would do decent job & way better than what the default laptops webcam does.
With that said, let me share the apps (free & paid) for android & iPhones. But first, let me talk about the one I'm personally using. Let's dive right in.
Iruin Webcam: Use smartphone as webcam
I discovered Iruin Webcam when I was least looking for this solution. It's amazing how people are optimizing their content that it reaches the right set of the audience even when they're not even aware of the solution.
Soon after I installed & tested this app, I upgraded to premium account. It's that awesome.
If you have an Android smartphone, download the app for your smartphone from here & install desktop client/driver for Windows, Mac, or Ubuntu.
Now that you have installed the app, let me help you setup the device & the app.
Setting up Iruin Webcam on your Android smartphone & PC
There's pretty much nothing to do as part of setting up the app on your smartphone. However, apart from granting relevant permission to access audio & video, you need to enable USB debugging on Android smartphones.
In case you've don't have this setup already, you will need to enable developer tools first.
Here are steps to enable developer tools & USB debugging on a Android smartphone:
Step 1: Go to Settings ➢ About phone
Step 2: Find 'Build version'. In some smartphones it's directly under about phone section & in some it's under 'Software information'
Step 3: Tap seven times on 'Build version' until you see a pop up at the bottom as shown below.
Step 4: Now that you have the developer mode enabled, you can go back to Settings home & look for developer options & enable USB debugging as shown below.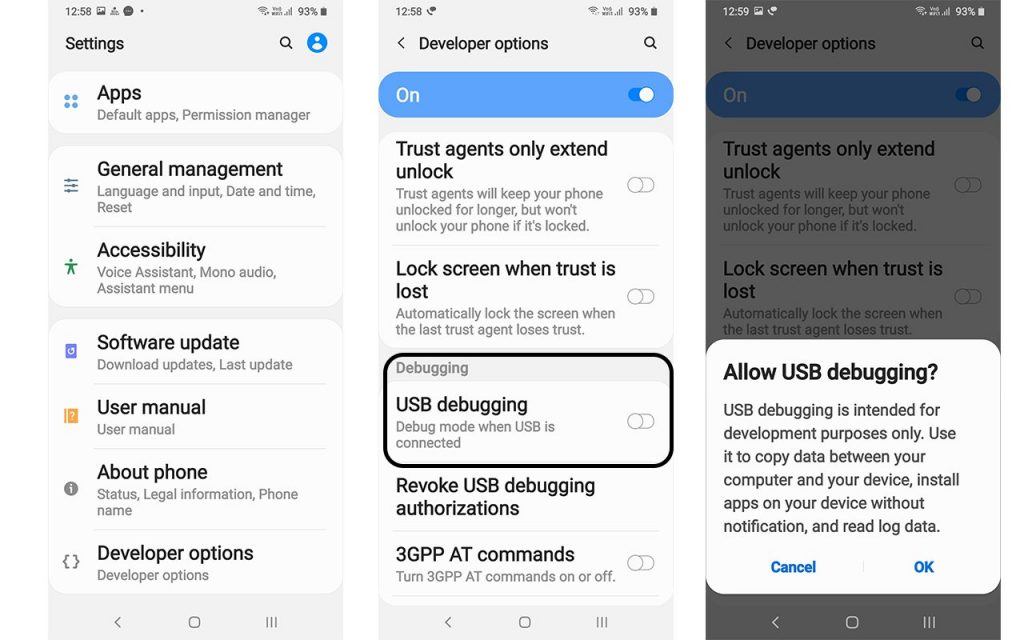 Once you have this setting enabled, you're ready to use an Android phone as a webcam using the Iruin webcam app for Android.
Setting up the client on pc or mac is straight forward.
On Windows & Mac, you will need to accept the terms & condition, and proceed with the setup as guided by the installation wizard.
I have installed the app on my MacBook pro & it's even more simpler there.
We have all the setup done, now it's time to put everything in action.
Livestreaming/meeting with an Android phone as webcam
I'll use the MacBook as an example. To begin with, I connected my smartphone & the MacBook to the same Wi-Fi. I don't find a need to connect my smartphone via USB cable, I've found the wireless setup decent enough. However, the USB connection is much more reliable & lag-free.
Here are the steps to use smartphone as webcam:
Step 1: Open the app in your smartphone & ensure you're connected to the same Wi-Fi network as the MacBook/PC.
Step 2: Run the app on MacBook/PC & change the camera input as Iruin Webcam as shown in the image below.
Step 3: Create a meeting on Zoom, Google meets, or Skype (Yes! it works for all meeting software). I've tested this app on Zoom, Google meets & Skype. It works silky smooth. All you have to do is change the camera input to the Iruin webcam.
Step 4: Done. You're sorted.
Important Note:
1) In case your PC is connected to an ethernet cord, you won't be able to use your smartphone as a webcam on Wi-Fi as video input. You will need to connect the smartphone to the PC via a USB cable. Remember, you enabled USB debugging in the first step? That comes in handy now. You don't have to do anything for an iPhone of this sort.
2) Furthermore, since I use an android smartphone, I've drafted this post accordingly. However, you can use your iPhone as webcam using the Iruin webcam. You need to perform the same steps on your iPhone & you're sorted.
Other alternatives of Iruin webcam
These alternatives are great & effective, but it kills the most important element, it doesn't work on macOS. At least for me, I have mac machine so what's the point of using any of the alternatives? Apps that work on macOS, are either expensive or have lower resolution.
I've tried these apps & came to the conclusion that the Iruin webcam is the best of both worlds, even if you decide to not upgrade to the paid version (which I think is worth purchasing)
TL;DR – Final thoughts
I upgraded to the paid version of the app & my meeting are so much better now. Even though I have a better audio equipment, I wasn't seen decent – thanks to the in built camera of my laptop. Can't complain much about it, I can't expect slim screen & 1080p cam in one place – at least not yet.
I really hope (& wish) Apple is working on sliming the lenses, to manage to pack a 1080p camera built-in. I know apple can pull this off.
This is the story for all the laptop manufacturers, but till then, we have to rely on the super-powerful smartphone in our pocket as an external or wireless webcam for our laptop or PC.
Furthermore, I think it would really be helpful if we could switch between the front & back cameras right from the screen. Right now, you need to go to settings & then switch the camera. Meanwhile, you do this, your camera is turned off.
Lastly, you can opt for a sturdy tripod for smartphones & wireless headphones so that you don't have to place the smartphone on a bookshelf or somewhere loose, and end-up tangling in the wires.
Share this post with your friends who are using the default camera for their meeting & help them upgrade to better video quality without spending a dime. I'm sure you'll look cool when you talk about this solution with them.