According to a report from Verto it was found that more and more people are opting to switch to Mac. If you're one of them, this post is for you.
After a decade-long relationship, I finally bid adieu to windows (though I use it occasionally). I bought MacBook Pro last year and have been using it for almost a year now on a daily basis.
For the first few days, I cried like a baby missing windows, since macOS was an alien to me and I didn't know anything about it. Even the setup instructions for the MacBook weren't enough to make me feel confident about my decision on this switch.
It took me more than 20 minutes to just install Google Chrome on my Mac. I'm that alien to this environment.
That's embarrassing.
But soon, I found myself getting used to the UI (which is fantastic and super smooth)
This made me realize, 'I'm not alone who's switching to mac from Windows'.
This one thought inspired this post and I've decided to record my experience in this post (as and when it happens)
If you're planning to switch from windows to mac or if already have and need some hand-holding, this post is for you. I have packed this post with mac tips for windows switchers.
So without further ado, let's begin.
Note: I'm writing this guide with people like me in mind. Who's just switched to mac or has little to no experience with macOS? So if you've used any version of mac in the past, you'd probably know these already. You're a Pro. You're an avenger.
Mac Tips for Windows Switchers (& what's different on this side of the coin)
Desktop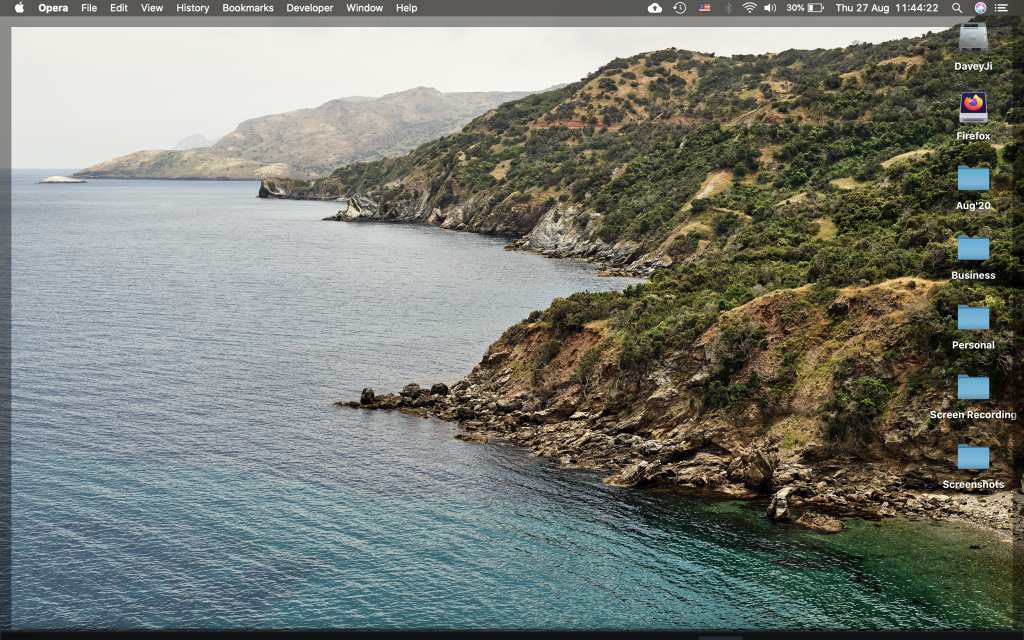 Mac doesn't like any clutter (at least out of the box) so you won't find "This PC", "Recycle bin", "Control Panel" or anything of that sort.
This is a mac, everything is shiny.
Not a big difference, but mac is very clean & easy. But unlike windows, there are a couple of things you can't do on the mac, out of which most important is, you can't refresh the desktop or anywhere in the file explorer. It 'auto-refreshes, instantly.
Get to know your desktop on mac:
If you drop by your desktop, at the top you'll see the menu of the application that was last active. That comes in handy when you've minimized the application to fetch something from the desktop and you need to perform something on the last active application.
If you've used Ubuntu OS, you'd be familiar with the dock area that contains the applications you want to use the most. This is similar to the taskbar on Windows but more efficient.
There's something called 'Mission Control' that lets you manage all the applications that you've kept open. This includes a desktop, which you can navigate to if you need to. Which is equivalent to Win+D on Windows.
You can also make use of something called 'Stacks' on your mac, in case you wish to have files that you often very handy. You can stack files by kind, date, or tags. If you group by Kind, all the images will be in one stack, and all your presentations in one. This way, whenever you add a new file to the desktop, it automatically goes into that particular stack automatically.
You can group similar files on your desktop by selecting all the files you want to group. Then control+click one of the files then chooses New Folder with Selection.
There are a ton of things you can perform just on a desktop, but I will confine myself to these many. Maybe a dedicated post will do the needful of sharing everything you can do on a mac desktop. Maybe? Nah! I'm surely doing it.
Finder
Finder is the mac equivalent of windows explorer, though it is way better than it. One peculiar thing about the finder app is that it is always open and you can't force quit like other applications on mac.
Don't worry, it is optimized to never slow down your mac, at least on the latest version of macOS. Furthermore, it is the first thing you'd lay your eyes on once you finish setting up your mac, and it stays open after that, forever.
If you've not stumbled upon the finder app as of now, it's the first icon on the dock below your screen as shown in the image below: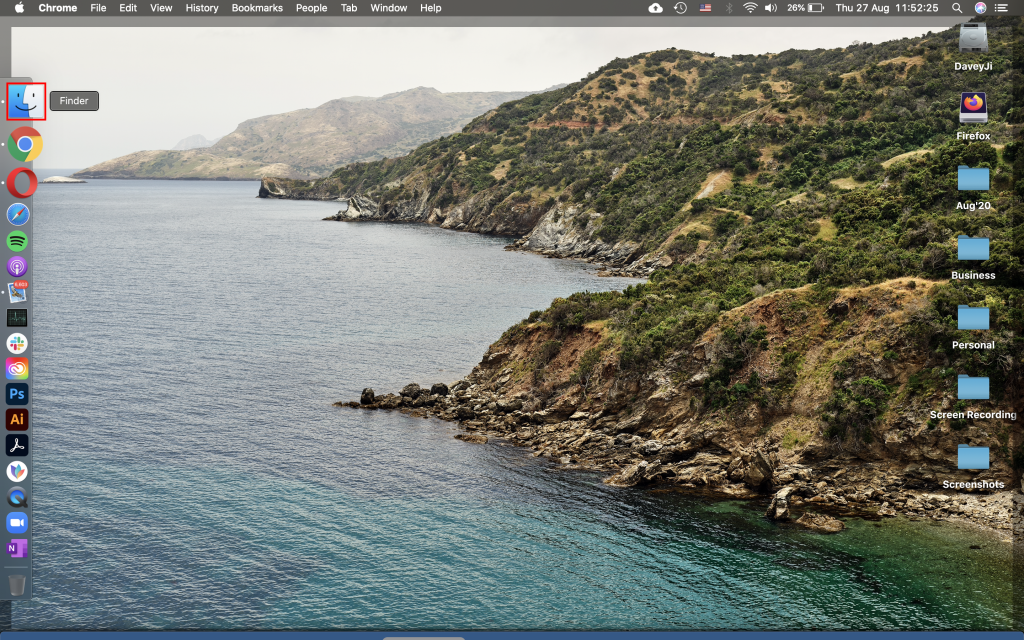 Just like windows explorer, this is where you will be managing all the files & folders on your Mac and external drives (if connected). But unlike windows explorer, you can organize the files & folders by tags, stacks, smart folders, and whatnot.
There's so much to the finder app, which is beyond the scope of this post.
Understanding the finder app on mac:
Unlike windows, the closing menu is on the top left of your screen. You can close the multiple windows of the finder app, but the last folder you've accessed will still be open – always.
You can customize the way you see the files & folders in the finder app. You can either use the top menu strip to change the view using a mouse or trackpad or use shortcut command+1,2,3,4 to change the view respectively.
In any style of view, you can do multiple things in the folder that is active. You can add tags to files, share them, and many things depending on the type of file or folder you've chosen.
You can even sort the files & folders by a bunch of categories as shown in the image below.
You can preview in any type of gallery view, simply press command+shift+P. The preview pane also includes quick actions like

Rotate images
Make up an image or PDF
Combine multiple PDFs into one &
Trim audio-video files

You can customize, you can click more , then choose to customize. If you've installed third-party quick action from the web or app store, it will appear here.
You can enable the path bar in the finder by pressing option+command+P. This will enable the path on the finder app as it will look at something as shown in the image below.
In finder preferences, move to the Sidebar tab and add your home folder in the sidebar that will have all the folder that lies on your mac, ALL.
That is pretty much everything on finder, to begin with, let's change boats now.
Keyboard shortcuts
Yes, it is QWERTY here, but the shortcuts are different. I found some of them unnecessary, some way too long, and some pretty straightforward.
But before that, let me make first make you feel at home with shortcut keys. Unlike windows, you won't find Alt, but here it is 'option'.
It's just 2 weeks, and I've gotten used to these shortcut keys.
With that said, let me share some of the most useful keyboard shortcuts on a mac right away.
Action
Mac Shortcut
switch between apps
command+tab
Forward delete
Fn+delete
Switch tabs in browsers & finder app
Control+tab
Close tabs
Control+W
Take a screenshot & copy it to the clipboard
Control+Command+Shift+4
Home or End
Command+Left or Right arrow
Seek forward or backward one word at a time
Option+Left or Right arrow
Activate spotlight to find anything on your Mac or online
Command+Space
Permanently delete files & folders
Command+option+delete
Move your files (Cut-paste)
Command+option+V
Quit a program
Command+Q
Rename a file or folder
Return (Enter)
Highlight the whole text from the
point of selection.
Command+Shift Left or Right arrow
Keyboard shortcut on macOS
Related: Check out all the keyboard shortcuts for mac, thank me later.
Using Trackpad on Mac Efficiently
On a scale of 0-10, I'd rate the trackpad on mac, 20. It's that awesome. It's just enough for almost anyone to use it.
The best part of this trackpad is that you can click anywhere and it will register as a left click or tap. To specifically click to perform certain actions, you can click the bottom left or right. Furthermore, the click also is so smooth that it almost feels like you've tapped and not clicked.
For some alien reason, macOS doesn't come with a tap to select enabled. You need to open the System Preferences Trackpad and check 'Tap to click'
There are a lot of gestures you can apply on the trackpad to perform a ton of tasks. Most of the heavy lifting is done by the trackpad in navigating you through the mac – all day long.
Trackpad gestures on mac
The default settings are enough to use the trackpad on your mac like a pro, but just in case you want to update the settings, simply navigate to the Apple menu  > System Preferences > Trackpad
Tap to click with one finger
Click or tap with two fingers for a secondary click
Double tap for Smart Zoom
Four-finger pinch-in to open launchpad (launchpad is your menu where all the installed apps live)
Four-finger pinch-out to launch mission control where you can have multiple desktops and manage active apps.
Here's a list of all the gestures you can use on the trackpad and the apple mouse.
Launchpad
Launchpad is like the start menu of mac. You technically wouldn't need it since there's the spotlight for you, but it's still there.
There are a couple of ways you can access the launchpad, easiest of all is the icon in the dock (that cute icon with a rocket on it).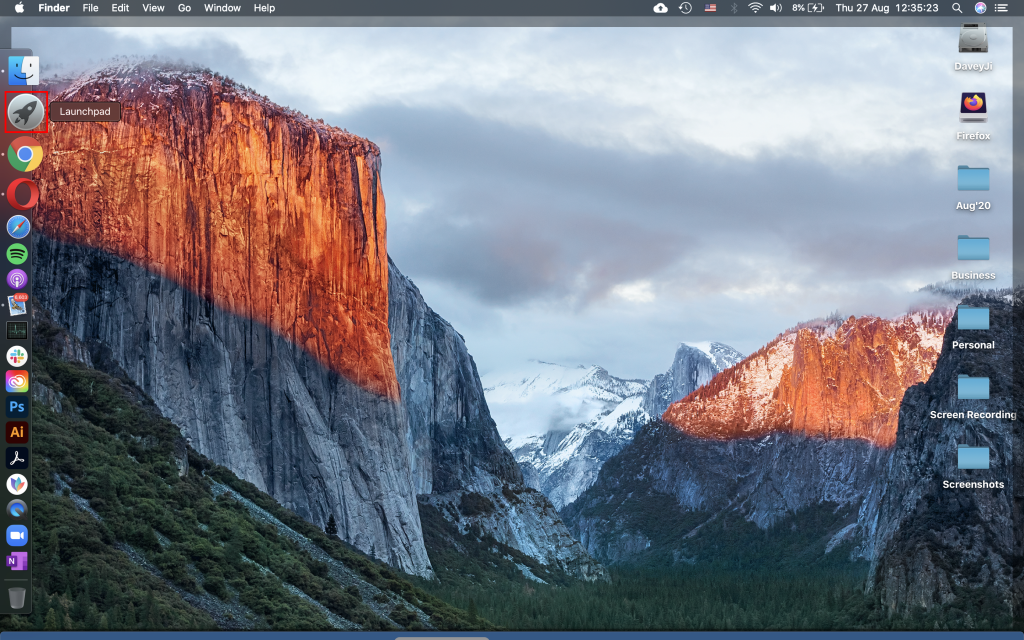 Apart from this, you can even access the launchpad by pinching in with four fingers (three fingers & thumb). You can even add hot corners that open the launchpad.
Do a four-finger pinch out to come out of the launchpad, there's no point staying there, use the spotlight instead.
Spotlight
I'm going to help you save 2 years of your time so that you go on a vacation. How?
By introducing you to the Spotlight.
As much of the mac I've used and heard from people, there's barely anyone who uses Siri or launchpad to search anything on the web or on their mac respectively.
Simply press Command+space to launch the spotlight.
You can search for the meaning of words, files & folders on your mac & search the web right from the spotlight.
Here's the best of all, you can launch applications without launching the launchpad. How cool is that?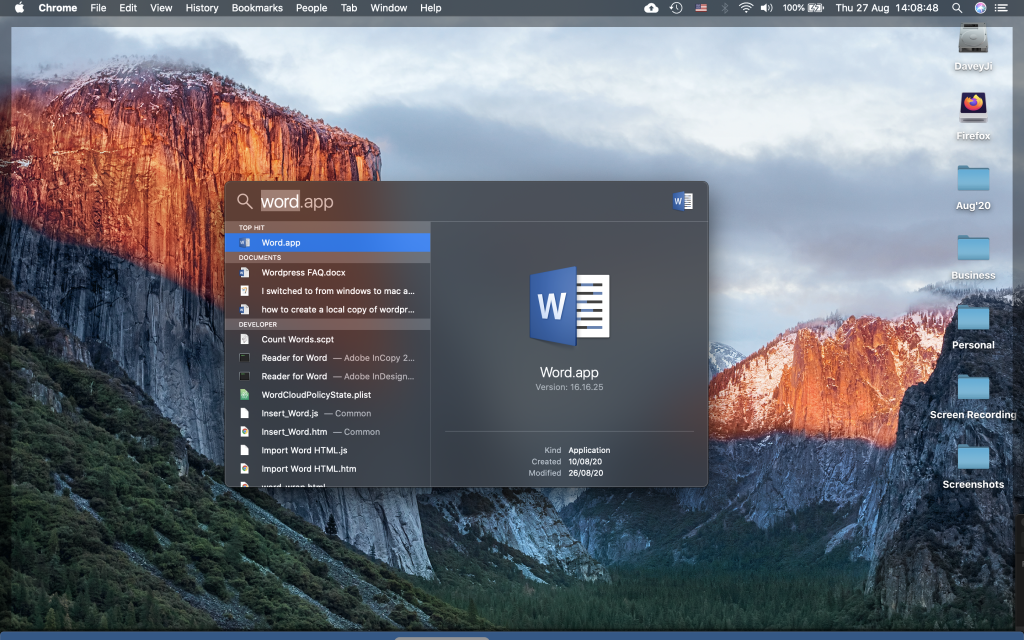 I think guys at apple have spent Siri's budget on the spotlight, it's that awesome. One of the reasons why is the fact that, it draws over any app and lets you get things done.
Here's what you can do using the spotlight:
Search for stores, emails, files & folders
Use search operators like "kind:audio", "kind:folders" to list all the audio & folders on your mac
Quick calculations & conversions
Find places near you, weather, movies
Closing apps
Closing apps isn't as simple as clicking/tapping on the 'x' button on windows. On the mac, any app you open can be closed, but it stays there in the background (occupying resources) waiting to help you again.
On a mac, clicking/tapping 'x' simply closes the window. However, there are multiple ways to force quit these apps (except the finder app) and avoid letting them occupy resources. To close any app, press command+Q
Force quitting apps on mac:
Right-click on the icon in the dock and tap Quit
Open Activity Monitor by pressing option+command+esc and then force quit individual apps from there
Press Command+tab and press Q with the cursor on the particular app you wish to quit. While you hold the command key, keep pressing the tab key to reach the specific application, then leave the tab key and press Q to quit the app.
Command+Q while the window is open to directly quit the app.
Command+Q is my favorite, especially because if there's any unsaved work of yours, macOS will ask you to confirm the action, which you can undo if that was by mistake.
Installing & Uninstalling on mac
Unlike windows, mac is very less sophisticated in this regard. Full marks for making one of the most used features super-duper user-friendly.
After spending more than 20 minutes installing chrome on mac (it took minutes to download), I learned that the installation process on mac is way superior to that on windows. It avoids 99% of the clutter and makes the process straightforward.
Like Windows has .exe files for installing, mac has .dmg disk image files. You can relate disk image files with the image files of complex software on windows like the Windows OS itself. Double-click (or drag & drop to the application folder) to install, and that's it.
On the mac, you need to double-click to mount the dmg on the Mac system & then simply drag the application icon on the application folder.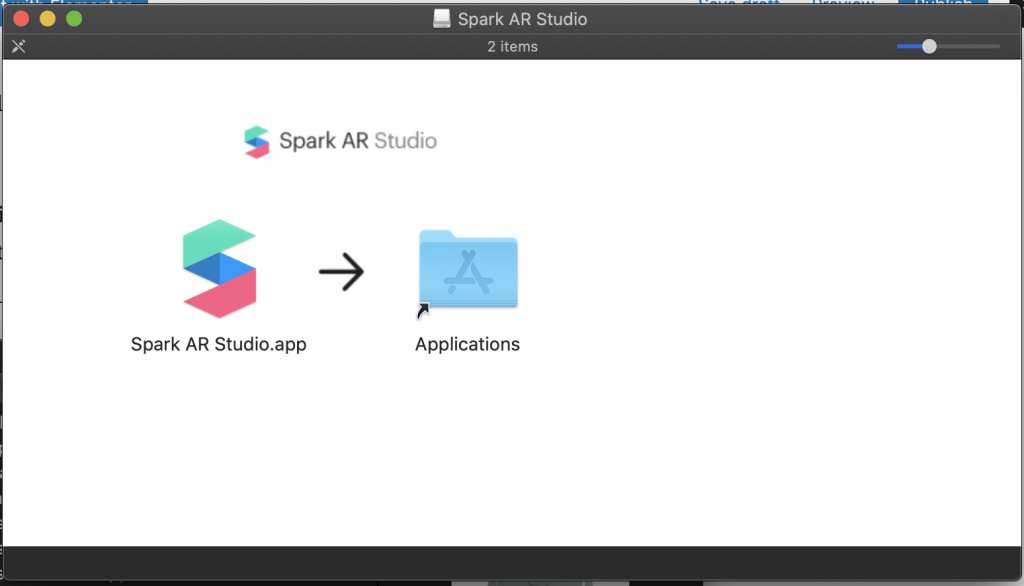 If you want to uninstall an app, simply locate the app in the Applications folder and drag it to the trash or command+delete. And you're done.
Oh! wait. Don't forget to clear the bin. The deleted apps will be waiting there, in case you change your mind.
Android Phone on macOS
The rivalry continues. There's zero integration of the android smartphone and your mac out of the box. You'll need to tweak it to do that.
Apple hasn't done anything in this regard and doesn't seem to be doing anything either. However, there's some help done by Android (it's official), and here's the fix.
Download & install android file transfer. That's it.
Moving from Windows to Mac? You wouldn't regret (to some extent)
Apart from the ports that come out of the box, there are certain things that would leave you in a dilemma of switching to mac from windows.
While only type 4 thunderbolt ports are making the MacBook thinner, it is also making it bulkier by forcing us to buy accessories like type c to multi-port adapters.
But that's subjective and depends on the end-user. I have no plans of connecting my MacBook to an extended monitor or connecting a LAN to it. So I'm more worried about the fact that what am I gonna do with four type c thunderbolt ports?
Furthermore, if you've ever got your hands dirty by using any version of Ubuntu, you'd find the macOS relatable. But if you're completely new, you're going to take time. I got used to it in two weeks, and I've even set the scrolling pattern opposite to what used to be on Windows (just to enjoy the environment).
So there you have it. My experience, learnings & findings so far from using macOS for two weeks. More to come as fascicles in the future.
Let me know what you felt after reading this post. Did you feel at home? Trust me, I didn't at first, but now that I'm using it – It's cool. Put down your thoughts in the comment section below, let it be as simple as Hi. I'll wave back.