Since its debut in 2012, Google Drive has only gotten better with time. It has replaced the worry of forgetting your work at home with the convenience of working anywhere.
It's been 2 years since I started using Google Workspace (formerly known as GSuite) and I've become an avid user of Google drive. In fact, the sole reason why I chose Google instead of other alternatives for cloud storage is the fact that I can have everything on the cloud and still access it on my laptop – in short, the cloud is my primary storage.
If you too love Google drive as I do, here are 7 Google Drive productivity tips you can't miss using.
Google Drive tip #1: Create shortcuts for files in a folder
Sure, moving files to the right folder is a great thing to keep things organized, but if you're going to share a file with your team, chances are the file might be edited with incorrect information or worse, get deleted.
To avoid that, simply create a shortcut of a file in the folder you've shared with your team.
Simply hold the option (alt on windows) & drag the file to the shared folder as shown below: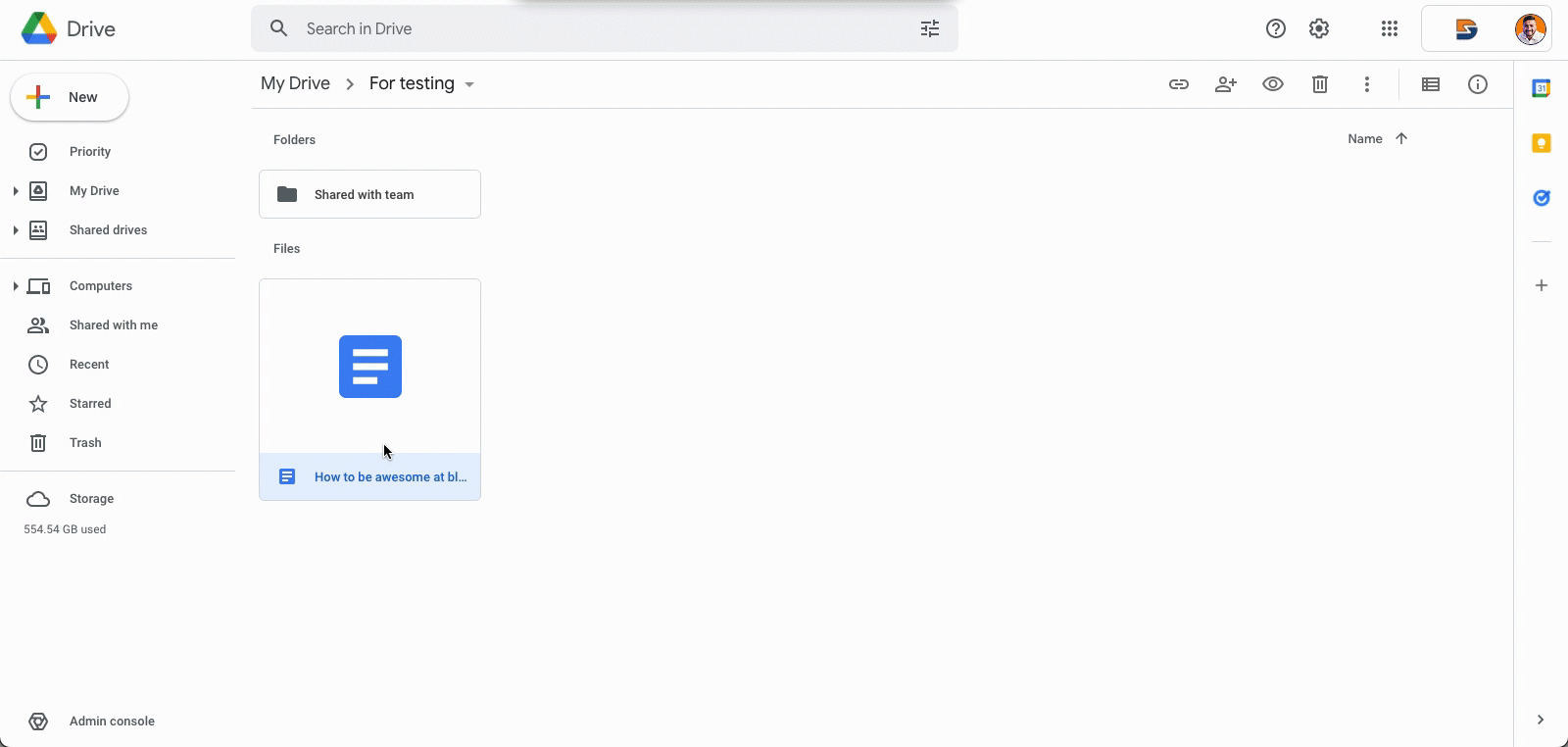 Note: You will be prompted when you create a shortcut of a file in a shared folder. Just acknowledge the prompt & you're good to go.
Just the shortcuts are supposed to work, all the changes made to the shortcuts will reflect in the original file, in real time. If someone accidentally deletes the shortcut, no worries, the original one stays intact.
Google Drive tip #2: Search Drive from the address bar
This one's my favorite.
Google never fails to surprise you. You can add your google drive as a search engine to quickly find files & folders without even opening the drive.
This is technically a site search that comes by typing in a URL and pressing the 'tab' key to search for something specific from within the specified site. Once you have your drive set as a search engine, the address bar should look something like this:
If you don't have the site search setup already (which is most likely) here's how to search for files in your Google Drive from the address bar:
Step 1: Go to Settings Google Chrome on your Mac or PC
Step 2: Click on search engines & then manage search engines as shown below. If you can't find these settings, click here.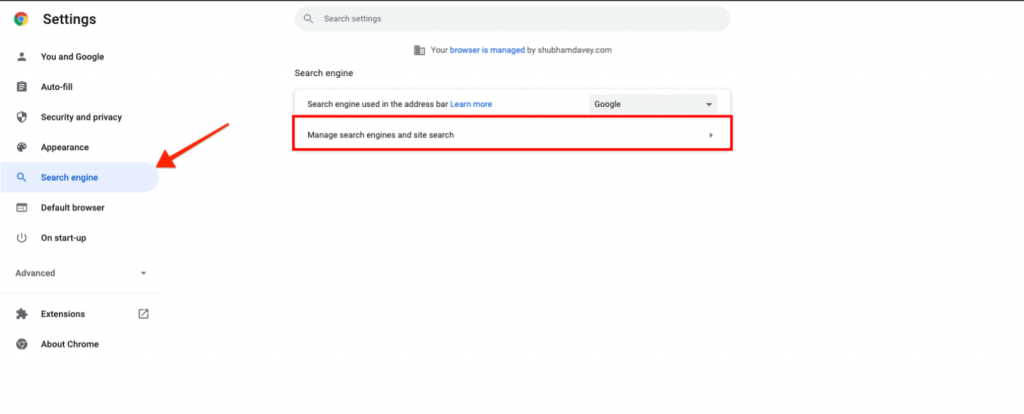 Step 3: Add site search for Google Drive. Fill in the details as shown below & enter this URL in the respective field & click on Add. Double-check the URL, it should be exactly the same, or else the site search on Google Drive won't work.

Step #4: Open a new tab and type the keyword you saved the Google Drive site search with, in this case, 'drive' and press 'tab' to search in Google Drive right from the search bar.
Pro Tip: I've even done this for YouTube, Google Shopping & Amazon. Simply search anything & replace the search query in the URL with %s like shown below for YouTube. Usually, anything after = in the URL should be replaced with %s and paste that in the URL search to enable site search for that specific site.
Google Drive tip #3: Search within the specific folder in your Drive
There will be instances when you & I get lazy and name a file as vague as 'notes' or worse, leave it untitled. To make it worse, this happens across several folders & when you search for such files, you end up scratching your head not finding them.
But there's a fix to this.
If you remember the folder you want to search, simply use the 'Search within' function to find that file without browsing through several such files.
Simply open the directory where the folder resided, click on "Search Withing <folder name>" and search for the files you want to access.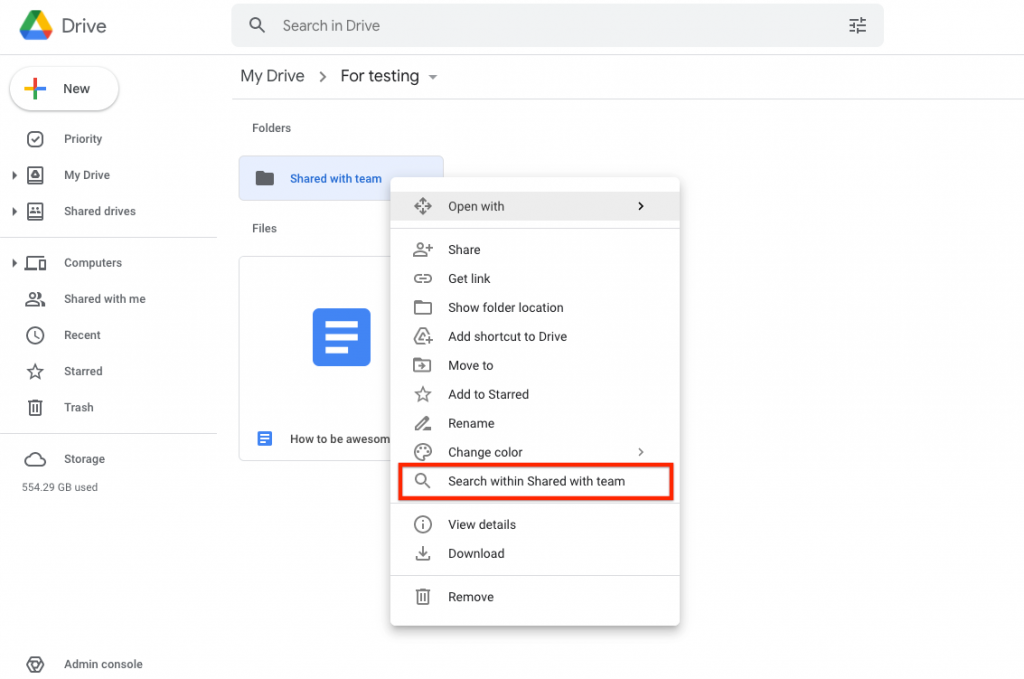 Now you can be sure that you have opened the right document from the right folder without double-checking.
Google Drive tip #4: Advance search for files you can't remember
I get it. Remembering tons of files is a serious task that many fail at. Even I'm guilty of it.
To make up for our amazing memory, Google Drive has an advanced search filter that can help you search for specific file types, by owner, location, and more.
Click on the filter icon in the search field as shown below: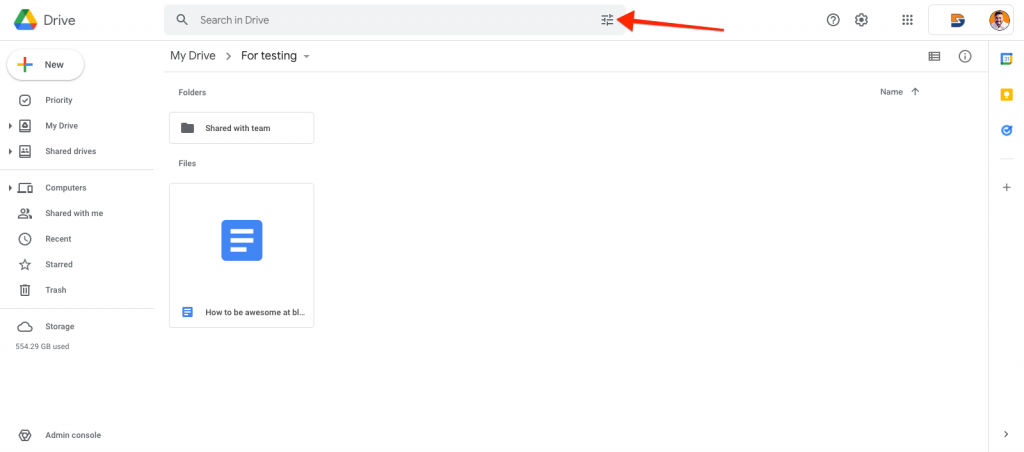 Then use the advanced search option as you like. These filters can be helpful to find files that you can't remember the location it was stored, the name of the files, and more.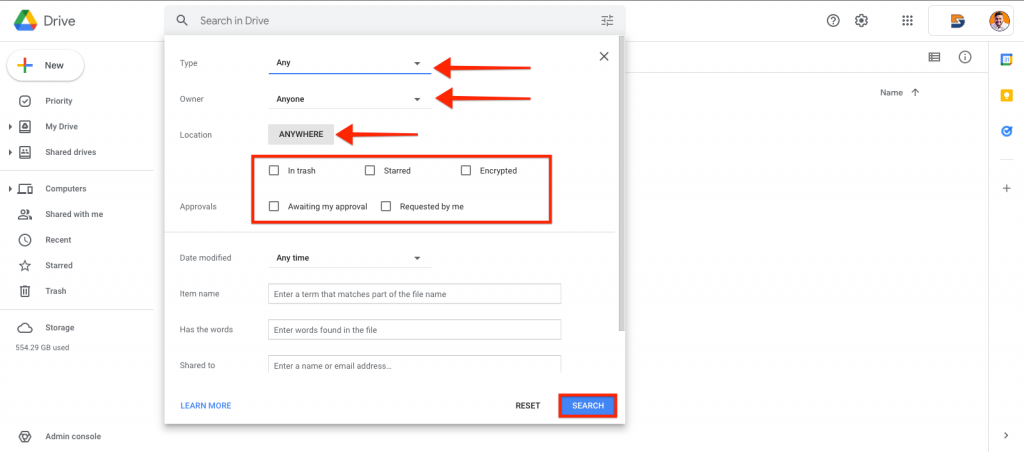 Google Drive tip #5: Import text from images or PDFs into Google docs
If you have a screenshot or a PDF that you want to extract text from or edit, open that in Google docs and Google will import all the text as if was freshly typed in the document file.
Simply right-click on the image/PDF & open it with Google Docs.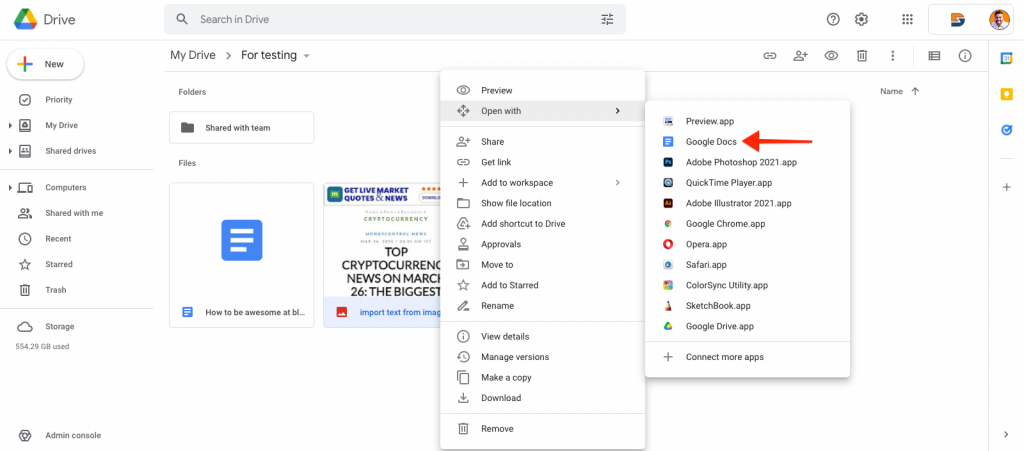 This is the text that got imported from the image I had saved in the drive.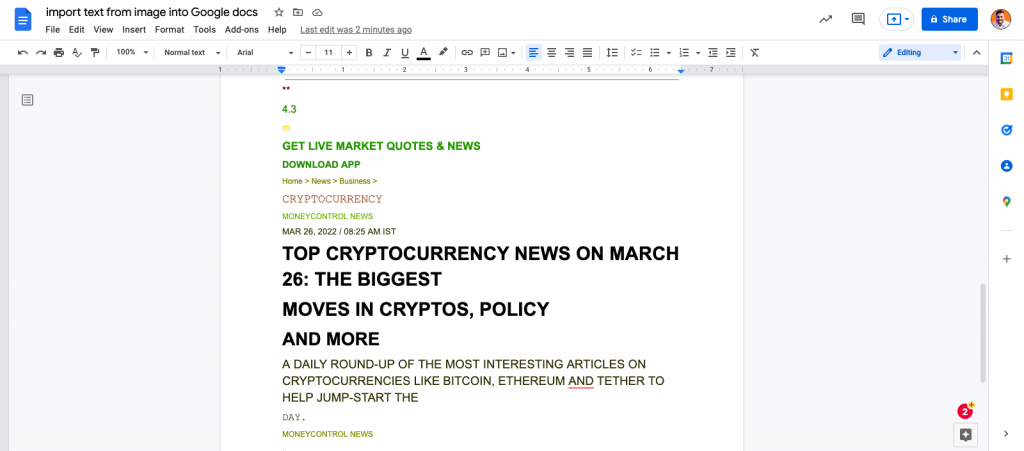 Now you can be lazy not to type the whole thing in the image or edit the PDF 😉
Google Drive tip #6: Enable offline sync
I do this often. We're bombarded with notifications when connected to the internet. I turn off the internet to work peacefully.
Enabling offline sync helps me save my work offline and whenever I'm connected to the internet next, all the work is synced across all my devices. I can be on a plane or traveling with a poor internet connection & still be carefree about not losing my work on the fly.
To enable offline sync in Google Drive, Go to settings, (or press T) and find the Offline sync option and simply check it. Unfortunately, this isn't checked by default, so make sure you enable this for all your business & school accounts.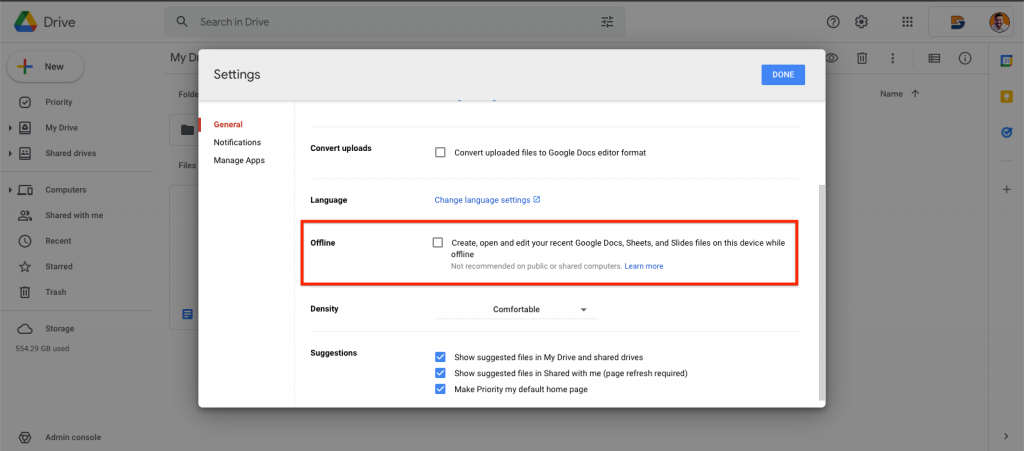 Lastly, make sure you don't have this enabled if you ever gonna use public wifi.
Google Drive tip #7: Important keyboard shortcuts for Google Drive
I don't use Google Drive on the web much, I use the Google Drive app for mac to sync all my files stored in the drive on my mac.
But I know a couple of shortcuts that come in handy every time I use Google Drive on the web.
Here are some Google drive shortcuts I used the most:
Press 'n' to rename files & folder
Press 'g' & 'n' to switch focus to the navigation bar on the left. Press 'g' & 'l' to switch focus to the list view of the files and folders on the right. You can press enter/return to open the file.
Press command+/ (or control+/ on windows)
Final thoughts & TL;DR
Google makes such amazing products that it's very easy to get blindsided by the cool features under the skin of this awesome tool.
If you've missed reading through the post, here's a summary for you.
Create shortcuts for files in a folder
Create a site search for Google Drive & search from the address bar
Search for files within specific folders
Advanced search filters to find files you can't recall
Import text from images & edit PDFs in Google docs
Enable offline sync
Keyboard shortcuts for faster use
I will continue to add more tips & tricks about Google Drive as and when I discover them. I will announce the updates on Twitter. If you're aware of any such tips, share those in the comments.