When I switched to mac from windows 2 years ago, I had a mild idea that mac and windows aren't the best of friends. I partially knew that I won't be able to transfer my data from windows to mac easily. After I purchased my MacBook Pro, I was searching for mac format external drives. I even considered buying SSD hard drives, thinking only SSD hard drives are compatible with mac.
If you too had faced this, you'd relate to this. NTFS is the default format that windows prefers for its drives. While using Windows, if you ever got a chance to format/reformat a drive, you must've noticed the format type. If not, that okay.
NTFS & FAT (also FAT32) are the external hard disk format supported by windows and macOS respectively. MacOS (and many linux flavours) cannot write on NTFS formatted external drives, but can read though. That's the biggest hurdle you'll face while transferring data from windows to mac or vice-versa.
I already had a 2TB external hard drive but I had no idea I can use that on mac and windows as well. This post is about how I formatted my external hard drives to be compatible with both mac & windows. If you're looking for a solution around the same problem, your search ends here.
Sit back & relax.
The default problem with macOS out of the box
As I mentioned earlier, I faced problem transferring files from my windows PC to mac. That was because windows files are stored in NTFS format. This means, files stored in NTFS format can only be read in mac. It can't be written. Same holds true for hard drives. That is, if a hard drive is formatted in NTFS format, it can be read on a mac but you can't write anything on those drive(s).
The default disk format on mac is APFS as shown in the image below.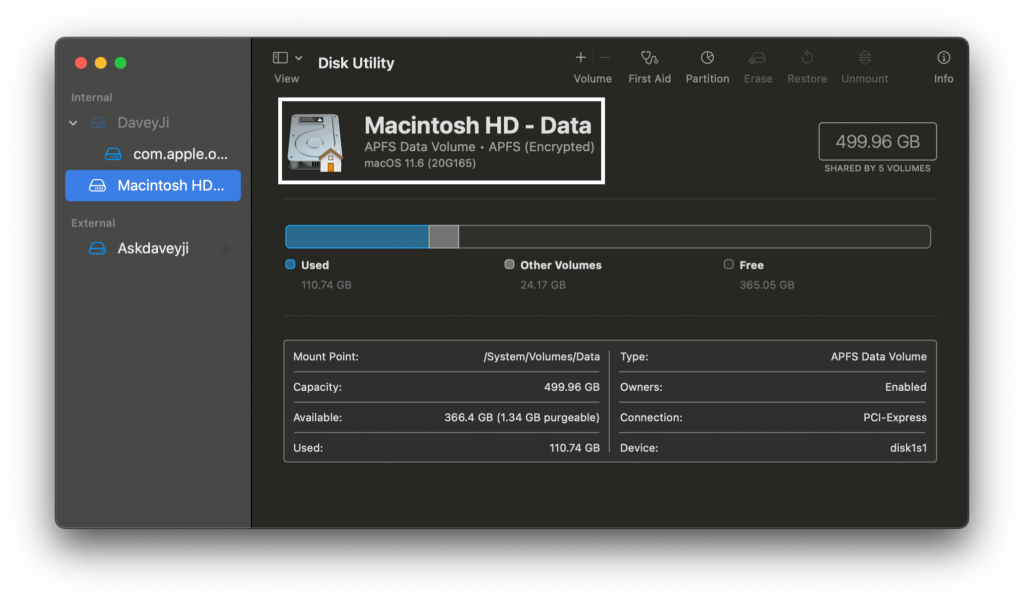 On the other had, an external drive I used is a mac formatted external hard drive, which is compatible for both macOS & Windows.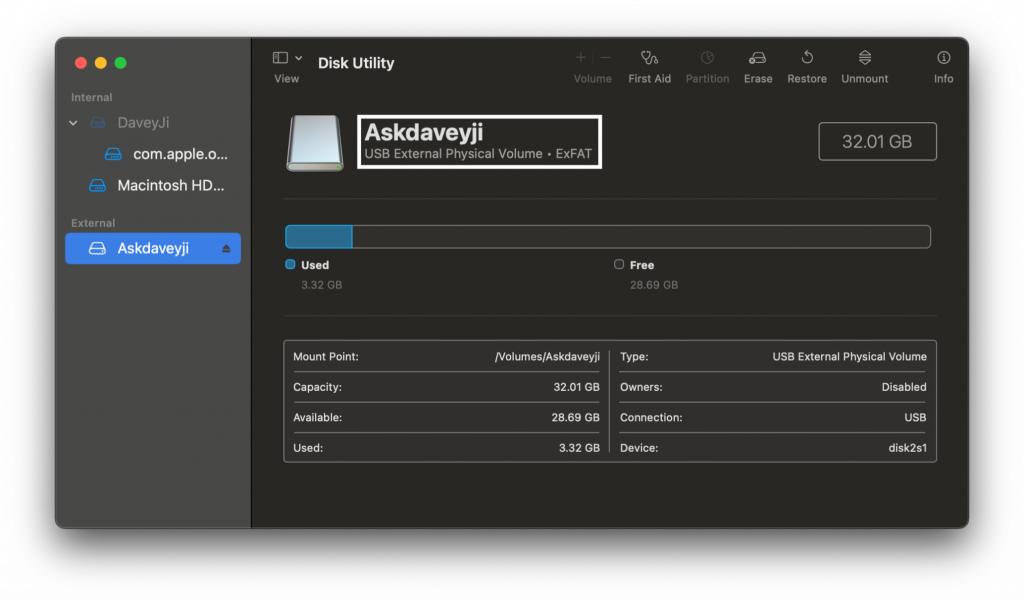 Most users that switch from windows have some or the other files to transfer from their old PC to new mac and data-transfer is a bottle neck for those users. Interestingly, almost all external hard drives are available formatted in NTFS only. Checkout the official document from Apple stating the formats that are supported on mac and windows.
Related: 67 macOS shortcuts that will save years of your life
Formating external drives for macOS on macbook
Usually, the external drives in mac format are expensive for mere reason that those are optimized for macOS & SSD in nature. Upon quick research, mac format external drives usually priced around $160-$220 for just 1 TB. Furthermore, those drives may still not be ready for macOS out of the box.
Here are the steps to format external drives for macOS:
1. Connect the drive to your macbook
2. Open Disk Utility app that comes as a part of macOS
3. Make sure the drive you want to format is listed in the disk utility app
4. Select the drive you want to reformat the hard drive for mac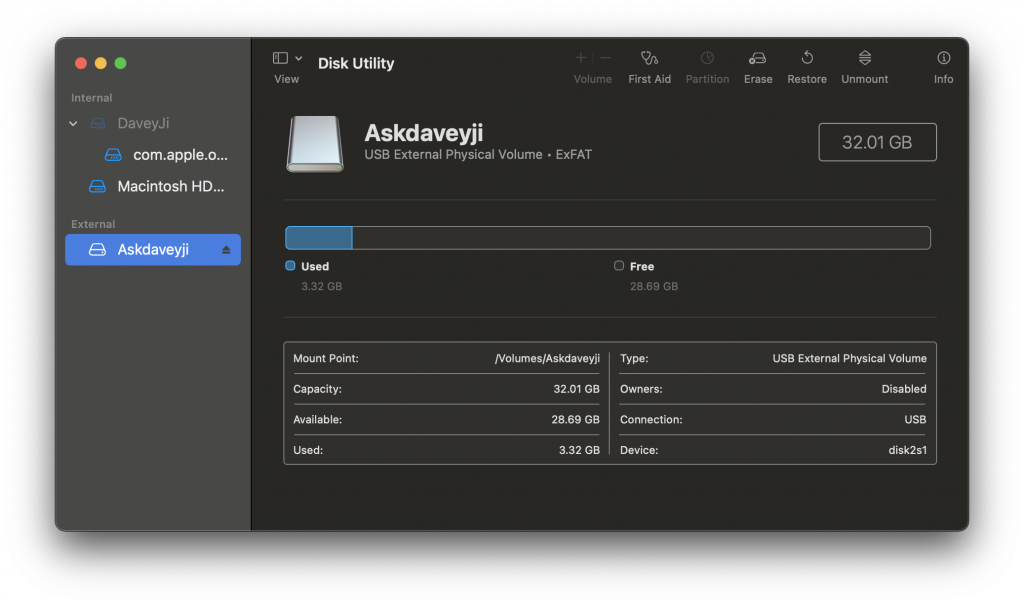 5. Click on Erase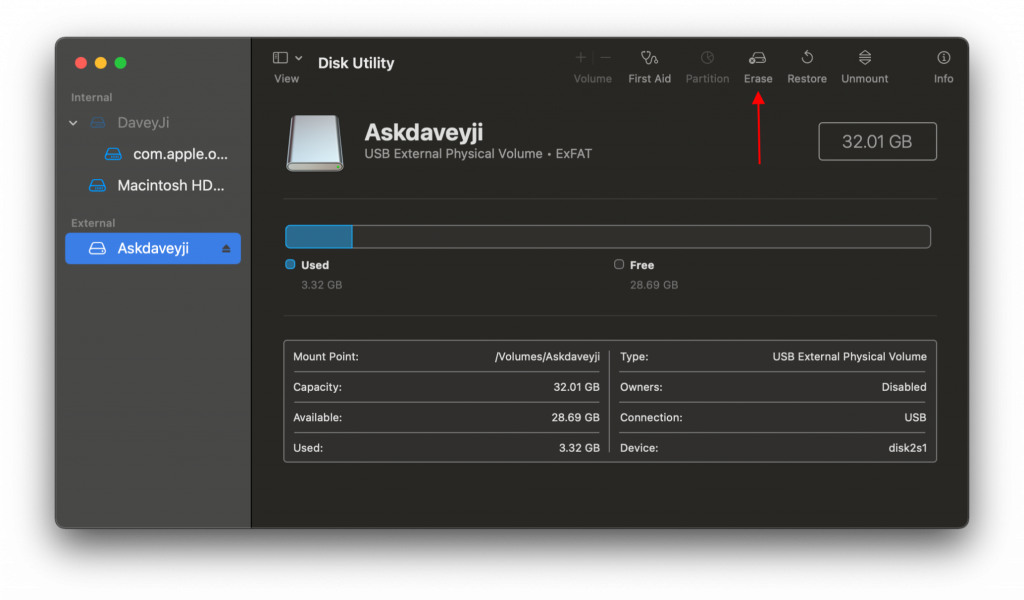 6. Select ExFAT as shown below & click erase to finish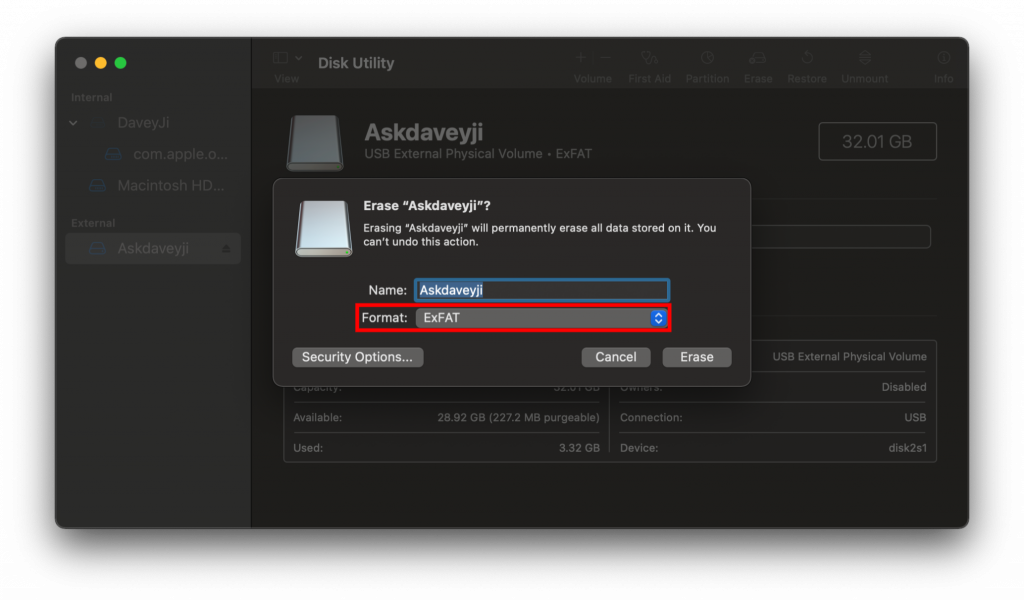 These steps will help you read and write on hard drives that were previously in NTFS format. You need to ensure that you don't format external hard drives often to null the chances of corrupting those drives. Furthermore, make sure you backup the content of the drive before formating it for mac.
Note: You can do this on windows as well. Simply format the drive you want to use on mac and windows and select the format as ExFAT at the time of formating.
Frequently Asked Questions
What format should I use for mac external drive?
Usually, the ideal format for macOS is APFS, but that's only if you want to use the drives on mac ecosystem. If you want to use for both macOS and windows, then you need to format the drive in ExFAT format.
What format should a mac backup drive be?
If you're creating backup drives for a Time Machine backup disks, then you will need to format the drive in APFS format. That's native for the macOS ecosystem
Can macOS read ExFAT external hard drive?
Yes, macOS can read and write ExFAT formatted hard drives. Format any external hard drive in ExFAT format and you can use it on mac and windows.
How do I get my mac to read an external hard dive?
By default, macOS can read any hard drives formatted in any format including NTFS (which is default file format in windows). However, to write on those drives you will need to reformat those drives in ExFAT format.
How to format external hard drive on macOS?
Depending on the make of the hard drive, you can reformat the drive to use on macOS. If the drive is compatible with macOS out of the box, then chances are that it can be used on windows as well. If not, reformat the drive in ExFAT format.
Do external drives need to be formatted on mac?
Not really. There are several external drives formated that's supported by macOS. Check the default format of the hard drive before purchasing. Mac supports APFS by default, and if you want to use the drive on windows and mac, then you will need to format the drive in ExFAT.
Why can't I move files from my Mac to an external hard drive?
If you're trying to move a file/folder to an external drive, check the format of the drive. MacOS can't write on drives that are formatted in NTFS format. Check the details of the drive in Disk Utility app on your mac to find the format of the drive. Make sure it's ExFAT format if you want to move your files/folders to that drive and then on windows PC.
Final thoughts & TL;DR
While using macOS is a fascinating thing, it's obvious that there will be some restrictions. In this case, its a workaround that you, as a windows user, won't be accustomed to. Considering the fact that just a few years ago, enabling the NTFS write compatibility on OSx was a nightmare, especially for the non-techie people.
Even after formating the drives in relevant format, if you can't read/write files & folder to those drive, you may need to check if you have permission to access a drive on you mac. Furthermore, if you're planning to use the drive for time machine backup, checkout this guide to understand the format macOS supports for the same.
Lastly, if you're drive is less than 32GB then reformat that drive in FAT format and if it's more than 32GB, format the drive in ExFAT format. Check this guide to learn more about all the drive formats macOS supports.