Google is known for customization & YouTube being the second largest search engine has a lot of customizations available, though there are any in-house customizations, only third-party apps can help you do that.
If you'd like to customize your YouTube playback experience, this post is for you. Here I will share two chrome extensions that can help you customize the YouTube progress bar.
Customize the YouTube progress bar with simple scripts (that you don't have to write)
The first solution is dead simple. Go ahead & install Custom Progress Bar for YouTube™
At the time of writing this post, this plugin comes with 30 styles, it might be more or less when you install it. The most popular is the Nyan Cat.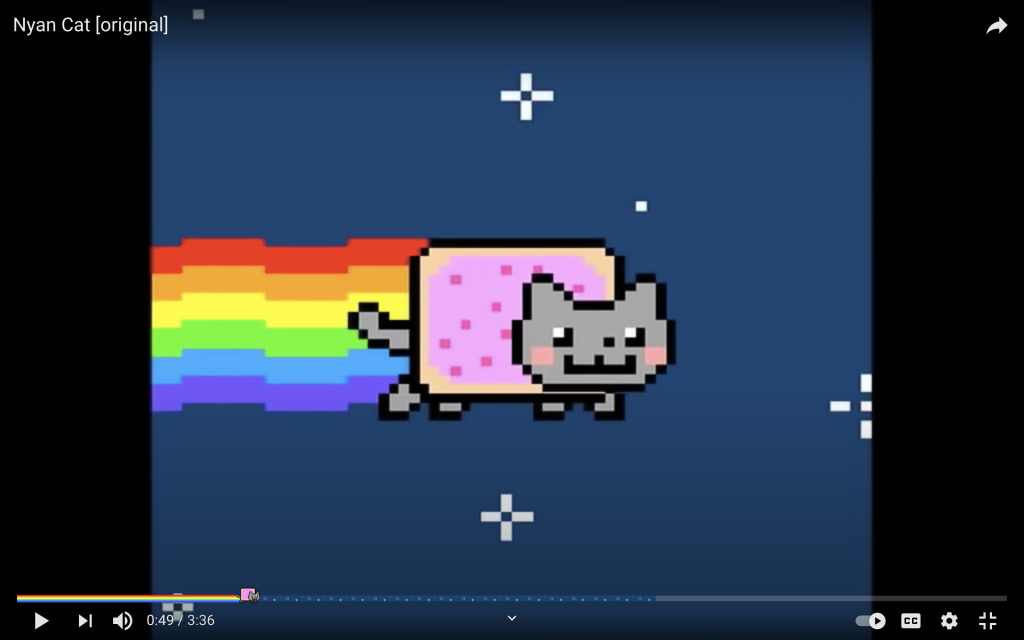 You don't have anything else to do. Simply choose from the pre-defined scripts & you're done. These are safer options & less hassle. But with less hassle, comes less customization.
You're limited to a certain number of designs & customizations. But I have a better option for you. It's another chrome extension, but with better customization options.
Let's check it out.
Stylish – Customize appearance on any website
Though you can't customize any website, there is a bunch of websites you can customize. But there are thousands of scripts for each of those websites.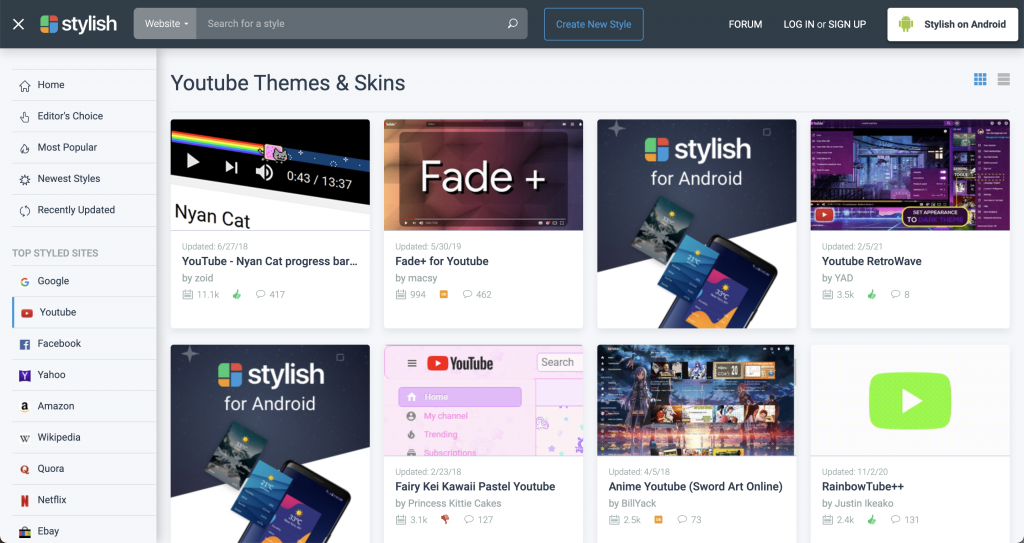 You can customize, Google, YouTube, Facebook, Yahoo, Amazon, Wikipedia, Quora, Netflix, eBay & Twitter.
Simply download the chrome extension from the chrome webstore & from the Firefox webstore as well. You can create a custom webstyle as well.
Note: The site is very very very slow. You have to be extremely patient if you want to find & install scripts. To install any scripts, you will need to install the chrome extension first. The extension is available for firefox, opera, & Baidu.
Here are some amazing styles to customize the YouTube player
#1 Nyan Cat progress bar on YouTube
I wasn't aware of Nyan Cat until I came across this extension. Seems like, the cute cat is ultra-famous on the web. So you can simply go here & install the script on your browser.

You can customize this particular script once it is installed or before installing it from this page.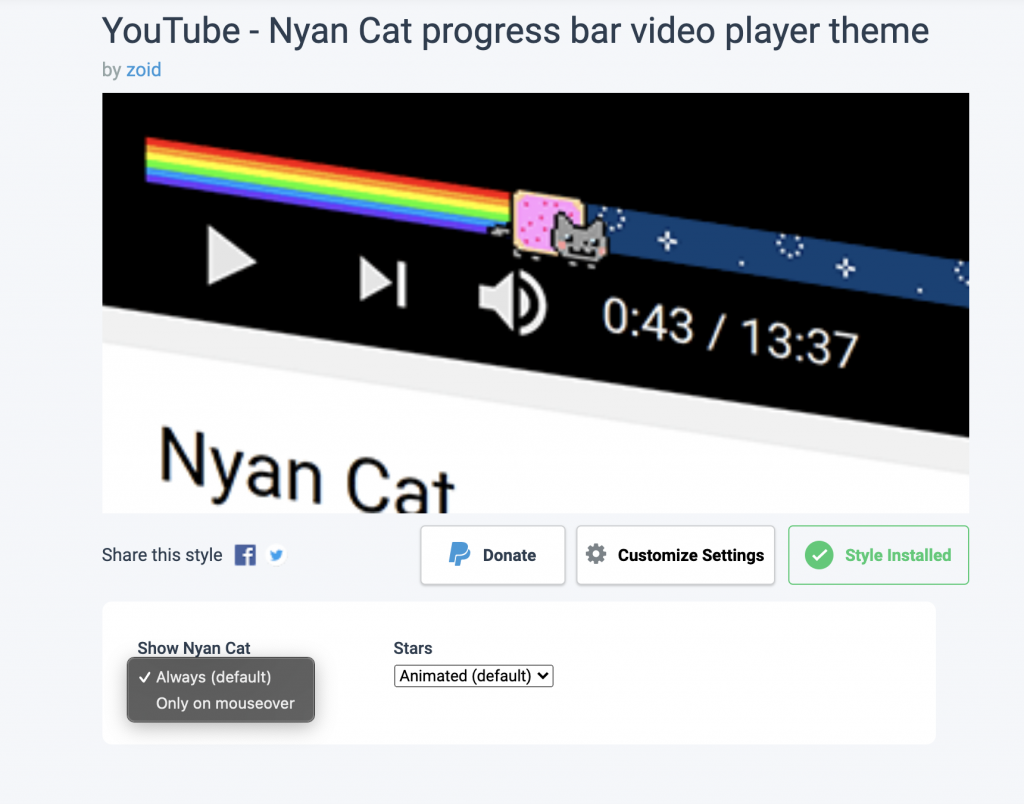 #2 Lightsaber for YouTube progress bar
Star Wars is the most recognized movie in the world. Almost every other guy on the planet is a fan of the franchise. If you too are one of those, you can install this script under Stylish & you can customize the progress bar with that script.
Here's how you customize your YouTube experience with this script by Stylish chrome extension. After installing you can customize the settings.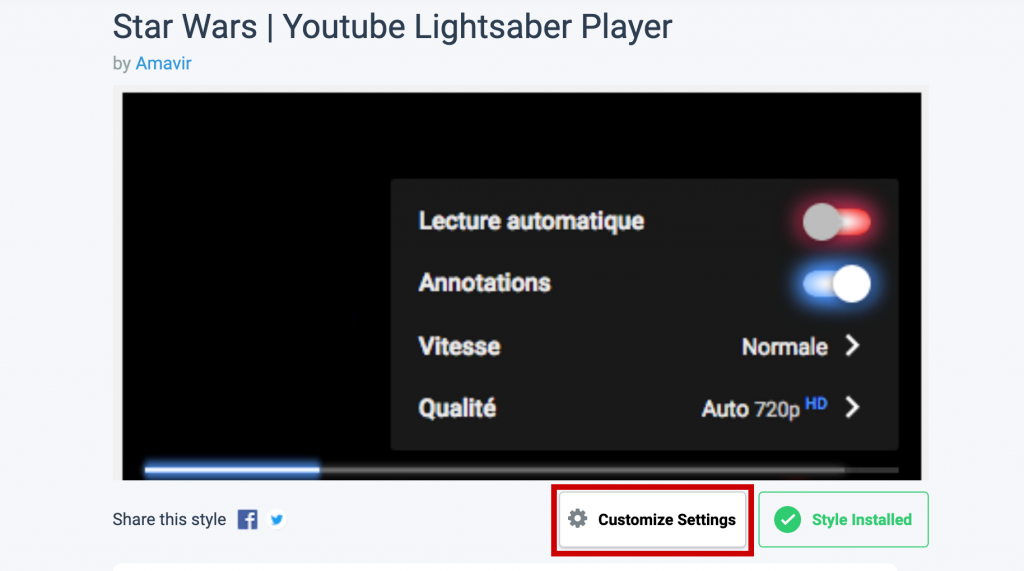 Simply click on Customize settings button and you can customize it as shown in the image below.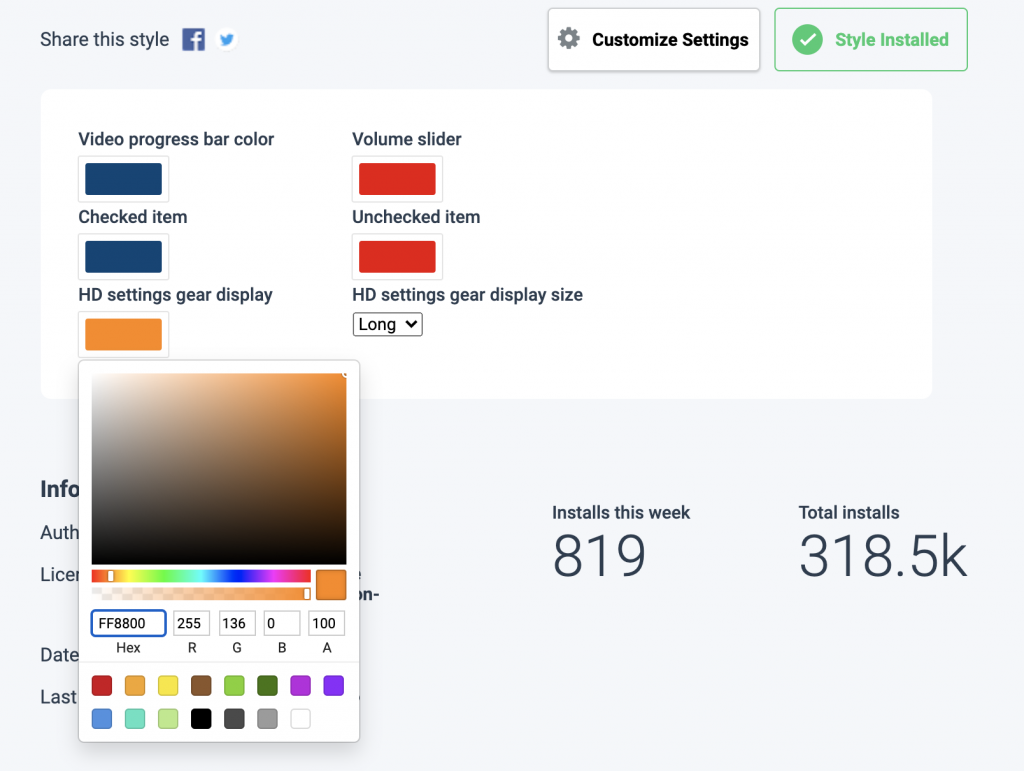 Once installed, you can have your YouTube progress bar look something like this.
Manage & Disable the themes/script installed on Stylish
I personally didn't like the manage page, it's a very plain HTML page but it's okay for the features it provides.

Navigate to this page or click on the extension icon > three dots menu > Manage all styles. You can manage all the styles that you have installed, in one place.
As part of managing the scripts, you can edit the code, delete the script & check for updates. You'll find this cool if you're an avid YouTube user.
Making the progress bar colorful on YouTube
Unfortunately, YouTube does not have a built-in feature to change the color of the progress bar. However, there are third-party browser extensions and apps that can change the color of the progress bar. It's important to note that these are not official YouTube features and using them can compromise your security and privacy.
One popular browser extension that allows you to customize the YouTube progress bar is "Enhancer for YouTube." It is available for Chrome and Firefox and it offers different options to customize the YouTube video player, including the color of the progress bar.
Alternatively, you can also use some apps like "YouTube Vanced" which are designed to provide a YouTube experience with more features, one of which is the ability to customize the progress bar color.
Note: It is important to be cautious when downloading and installing third-party apps and browser extensions, as some may contain malware or compromise your security and privacy.
Final thoughts on Customizing the YouTube Progress bar
There are a ton of customizations in form of themes, skins, fonts for a ton of websites. Check out (over 94000) the whole collection here. There are nearly 6000 themes & skins for web applications & over 11500 global styles.
Lastly, you can check out the dead themes & skins (they call it style graveyard) if you can make something out of the waste. I really liked this part where you get access to the code of existing scripts & the dead one – how open source.
You can even customize your experience on Android with the Stylish app for Android. Though you can only customize your navigation bar & widgets. I'm sure we can expect more cool features – thanks to android. I liked the navigation bar, I think I'll keep the app.
Related: Android shortcuts you're not using right now
Also, considering the little to no customization iOS provides, this app has no significance there. So sorry iPhone users!